OOTD | Starbucks Tips & Tricks
Hi ladies!! For my fellow Starbucks queens, this one's for you! Us basic girls have to stick together, which is why I am going to share a few of my top favorite beverages with you! I am a retired Starbucks barista from a couple of years ago, but the passion is definitely still there. :p
1. Pink Drink- This stunning acaí strawberry refresher is blended with a creamy dose of coconut milk. So refreshing!
How to order: size ↠ pink drink ... Yes, this one is super easy.
**Available in tall, grande, venti, AND trenta
2. Caramel Apple Spice- Sadly this one isn't on the Starbucks website. But trust me, it. is. SO. good! Although it isn't a coffee drink, it is still my favorite fall drink. It is steamed apple juice, cinnamon dolcé syrup, whipped cream, and caramel drizzle! Pro tip: ask for hot beverages to be made extra hot, they will last longer!
How to order: hot ↠ size ↠ caramel apple spice ... It is available as a cold drink believe it or not, but I definitely prefer hot!
**Available in tall, grande, and venti
3. Iced Vanilla Coffee- This is a pretty standard drink, but it is still a top favorite of mine!
How to order: iced ↠ size ↠ milk preference (I like soy) ↠ syrup preference (vanilla) coffee
**Available in tall, grande, venti, and trenta
4. Vanilla Sweet Cream Cold Brew- Cold brew is a very strong and highly caffeinated drink. The vanilla sweet cream is light and sweet so it really helps to tone down the strong taste. The sweet cream is a mixture of vanilla syrup, milk, and heavy whipping cream. It is perfect for those days when you are in need of an extra boost!
How to order: size ↠ vanilla sweet cream cold brew
**Available in tall, grande, venti, and trenta
5. Peach, White Tea Lemonade- If you are more of tea drinker, then this one is for you. The lemonade is a nice add-on to the standard peach white tea because it adds some extra flavor!
How to order: size ↠ peach white tea lemonade
6. Cinnamon Roll Frappucino- This one is on the infamous secret menu, and honestly these drinks are pretty simple to order! I remember customers would feel intimidated to try new things, but we were always eager to help!
How to order: size ↠ vanilla bean frappucino ↠ one pump white chocolate for a tall, two for a grande, and three for a venti ↠ cinnamon dolcé syrup with the same sizing guide ↠ whipped cream and cinnamon dolcé powder
Coffee beverages build on themselves. So once you know the beverage base (latte, cappuccino, macchiato, etc.) you can easily customize them!
1. My cardigan from Altar'd State is unfortunately sold out- but check back soon for the "eyelash" cardigans and sweaters!
Harper Sweater- This sweater is very similar with the soft texture.
2. Faux Fur Black Mules- My comfy faux fur mules are finally back in stock!!
Studded mules- This is another super cute pair!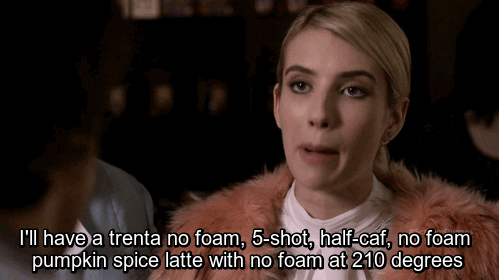 I know this was a long one, but I wanted to share some fun tips to help you master your next Starbucks visit!
XO -allie